Disclosure: Some of the links on this page are affiliate links. This means if you click on the link and purchase the item, I will receive an affiliate commission at no cost to you.
Are you looking for Instagram's best hashtags?
Finding the right Instagram hashtag can be a tedious process.
Now, with the help of Tailwind's new Instagram Hashtag Finder, you can easily find all the great hashtags in under a minute!
With this feature, you can type in a hashtag and Tailwind will recommend related hashtags.
The best part of all, the new feature will only show you hashtags that are active and not currently banned. This will help when it comes to worrying about the not so lovely "Shadow Ban" we all worry about.
Tailwind for Instagram is now the only Instagram scheduler that recommends the best hashtags as you type.
Good Hashtags Are Hard to find — and so time-consuming!
Hashtag research can be so difficult and time-consuming that most people only scratch the surface, or give up before even trying. That's a shame because hashtags are one of the best ways to organically grow your reach on Instagram.
Starting with a single seed hashtag, Tailwind will recommend other relevant and related hashtags, color coding them so you can differentiate "good" hashtags from "best," "niche," or highly "competitive" ones.
With one click, you can add any chosen hashtag to your post, at which point Tailwind's Hashtag Finder instantly refines its recommendations!
The tool turns what was once a time-consuming and baffling research process into flat-out fun.
Before you know it, you've got the perfect portfolio of popular and niche tags for your post, including a bunch of new ones that you'd never have thought up on your own. The handy hashtag counter even counts up the hashtags on your caption as you go so that you don't have to, letting you know if you exceed Instagram's 30 hashtag limit.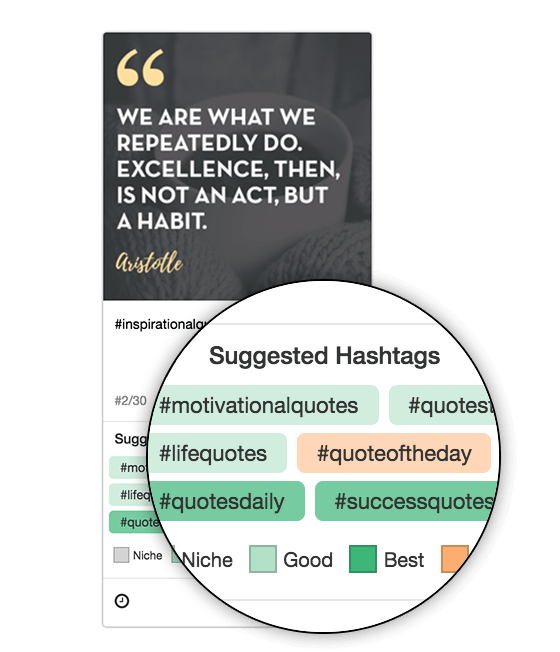 Tap the button below to sign up for a free TailWind trial. Cost after the trial: $9.99 per month, paid annually.
(Proud to be a TailWind affiliate! If you purchase, I'll get a referral fee.)
Check out this two-minute video of Tailwind's Hashtag Finder in action:

Tailwind has focused on strategies proven to impact long-term success. As an official Instagram Partner, they comply with Instagram's Terms of Service, so you know they're keeping your accounts and your personal information safe.
I'm an affiliate for Tailwind, which means that if you purchase a plan, I'll get a referral fee.
Interested? Sign up for a free trial today and try Tailwind's Instagram Hashtag Finder for yourself.